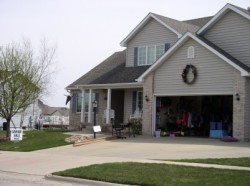 You wouldn't allow your car to operate continuously without routine service from a trained mechanic. Why, then, would you expect anything less from what is probably the largest piece of moving equipment in your entire household, your automated garage door? Each year, numerous accidents and breakdowns occur involving residential garage doors, resulting in costly repair bills for homeowners and even serious injuries. If you'd rather save yourself the hardship and hassle of malfunctioning home garage doors, make a date today for garage door maintenance from Allstar Garage Door Repair. A few minutes now could prevent a hazardous situation later on, so contact us right away for your preventative check-up service.
It's only a matter of time before repeated wear and tear can start to take a toll on the smooth performance of your garage door's mechanisms. After several years of use, the extended accumulation of dust, lubricants, and other environmental debris can be considerable. Leave it to our experienced technicians to help you avoid potential problems with your garage door and prolong the life of this valuable convenience for your Frisco-area home.
Recommended every six months, our periodic garage door maintenance tune-ups are a quick and effective way to stay on top of essential safety checks throughout the year, including:
Inspecting springs and cables
Tightening loose components
Readjusting settings
Cleaning grime and buildup
Lubricating moving parts
Testing rollers and runners
Checking safety sensors
And more!
Why wait until the regret and responsibility of a garage door mishap comes crashing down on you? At Allstar Garage Door Repair, we're available at your convenience for maintenance assistance on a variety of leading makes and models from major manufacturers, including Genie, LiftMaster, Sears, Craftsman, and Chamberlain. When you want flexible scheduling, seasoned technicians, and affordable service, you want garage door maintenance from the Allstar Garage Door Repair team. Reach us today by phone or send us an e-mail.
Free, no-obligation estimates are another perk of doing business with Allstar Garage Door Repair in Frisco. Contact us for a garage door maintenance appointment and we'll give you a price quote at no charge. You don't have to spend a lot to find solid peace of mind where your garage door safety is concerned. All you have to do is call our local, family-owned company for a proactive approach to your garage door upkeep. We look forward to working with you!