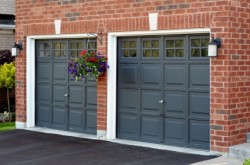 Did you know that your garage door opener only supplies a small portion of the heavy lifting necessary to put the door into motion? It's true! Residential garage doors also rely in large part on springs, pulleys, and cables to hoist the weight of the doors up from the standing position, control their descent, and keep them supported as they glide along the garage door track. Often, however, one or more of these components can run into trouble, leaving you with a garage door that no longer moves the way it should. But don't worry. Thanks to Allstar Garage Door Repair, your next move is easy. Simply contact us by phone or e-mail for prompt, professional service in the Frisco area and beyond.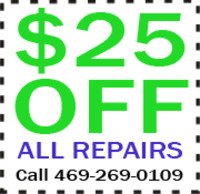 Whatever the glitch behind your garage door repair, you're in capable hands with our knowledgeable and efficient technicians on your side. As a local, family-owned business with more than a decade of experience in the trade, Allstar Garage Door Repair is fully equipped to get to the bottom of all your garage doors repair needs, major or minor, including:
Broken extension or torsion springs
Damaged garage door motors
Loose or fraying cables
Worn out or off-track wheels
Faulty rollers and runners
And more!
Unlike some unscrupulous garage door repair companies, Allstar Garage Door Repair won't try to exaggerate the extent of damage to your door in order to inflate our profits. We take great pride in delivering honest, top-quality service at affordable prices, so you can get the garage door repair help you need when you need it, without having to invest in a whole new door or entirely needless garage doors repairs. Plus, we make a point of keeping our trucks well stocked with a wide array of brand-name garage door repair springs and other essential parts, allowing us to provide same-day service on the majority of our garage doors repairs.
Garage Door Spring Repair
A broken or damaged torsion spring is one of the most common problems we come across at Allstar Garage Door Repair, making garage door spring repair one of the most popular services we offer. Since these heavy-duty springs lift and lower hundreds of pounds of door day in and day out, year after year, they tend to require replacement every five to seven years. Whether or not you heard a loud snap as the coils of your spring broke, this is usually the culprit when your garage door won't open but everything else seems to be in proper working order. Count on our skilled professionals to make swift work of your garage door spring repair or garage door spring replacement. We even offer emergency service for garage door springs repair, with absolutely no extra charge for after-hours service. So why go anywhere else for your garage door spring replacement? We'll get it done quick, and we'll get it done right!
Garage Door Motor Repair
As is the case with any mechanical device, the motor inside your garage door opener can become worn over time, leading to operational problems with the belt, chain, or screw controlling your door's movement. To restore the full function of your garage door opener, turn to Allstar Garage Door Repair to pinpoint the cause of your garage door motor problems. Trying to operate your garage door with an impaired motor is not just a performance issue, it's a safety issue. So don't hesitate to enlist our licensed and insured specialists for all your garage door motor issues. We're right here in Frisco for express service for your home. Give us a call today, and you'll be well on your way to leaving your garage door motor repair issues behind. 
And don't forget… our workmanship is guaranteed at Allstar Garage Door Repair. That means if you're not satisfied with your garage door repairs for any reason, we'll address the issue. For your free estimate on garage door repair service, just call or click now!